Signed 1901 Ship In Bottle Folk Art Whimsy Museum Quality Hand-carved stand USA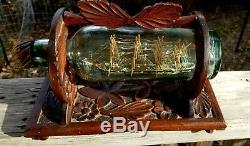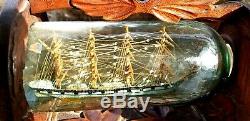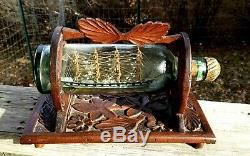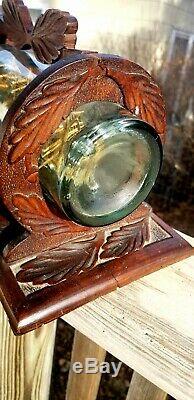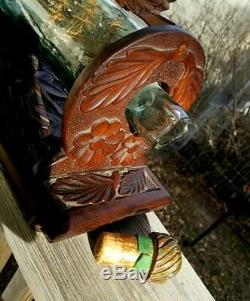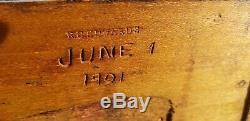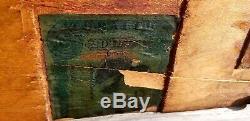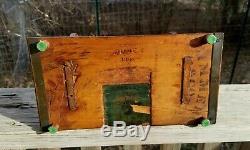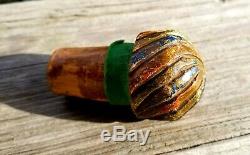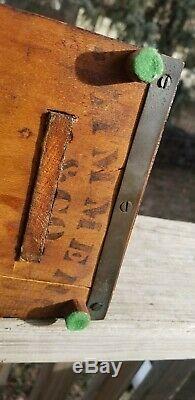 The photos are mostly self-explanatory, but I'll explain why this lovely piece costs so much -- it's pure perfection. For starters, you can see from one photo that the date and signature of the artist are carved on the underside of the stand. The carved date is June 1, 1901.
The artist also carved in his name: R. I'm guessing the base of the stand was part of a tobacco box. You see carvings like this in such things as clocks and serving trays, but I've never seen it on such a lovely SIB stand. The bottle is wedged in there fairly tightly -- it doesn't come out. This SIB is American made...
I'm confident of that -- the Stars & Stripes are crudely painted, but there's no doubt about the artists' intent -- USA! This SIBs Place In History... I posted a "Deardorf" bottle the other day that is more common -- more of a primitive model.
The rigging is amazing, fitted with lots of beads representing pulleys. And, consistent with everything else in the bottle -- the rigging is tight.
No loose lines, despite the fact that this bottle is 120 years old. Now look at the hull --see the pattern of white and black painting on the outside of the hull?
That too is very common in old ships in bottles, representing openings below deck. You see that on a lot of SIBs coming out of Europe, like France. The hull is beautifully painted. The neck is capped with yet another amazing hand-carved piece -- the cork stopper.
The end of the neck is chipped, and that's because the artist didn't want a long neck sticking outside his lovely carved stand. That's not the look he wanted. He wanted everything to fit "just so" -- balanced nicely, without the neck of the bottle. And the chips aren't a defect at all.
First of all, you don't even see them when the stopper is in. Secondly, the artist had every right to "control" the bottle he worked on -- and I agree with him. Without a long neck, the overall effect here is balanced and compact' -- the bottle fits perfectly with it's stand.
I have no hesitation in posting this, because I doubt it will sell. I'll save my tears for later, if someone actually buys it. The hand-carved stand adds a lot to the value. Dying With The Most Toys? I assure you, I have no desire to die with the most ships in bottles.
I've been collecting since the'80's, and have amassed a wonderful collection; however, now that I'm retired, it's time to share the wealth. The process is painful, because I'm dumping my babies. My loss -- your gain.
I have way too many and would like to reduce inventory significantly. I offer an objective, detailed and accurate description of my ships in bottles. I price my SIBs based on my expertise and perception of value.
I don't sell SIBs to make big bucks -- I'm comfortable financially, and deal in SIBs more for fun than profit. Parts of my collection have been displayed in libraries and museums, and I was a featured contributor on a nationally syndicated radio program talking about SIBs. If anyone has any questions about this wonderful form of folk, please don't hesitate to contact me. Hips in bottles remain a hidden treasure of the broader world of Folk Art. The value of SIBs will continue to increase significantly in coming years, making SIBs not only something to enjoy, but also a worthy investment.
Some have normal signs of wear and tear consistent with its age; however, significant defects or imperfections are always noted in the detailed description. The item "Signed 1901 Ship In Bottle Folk Art Whimsy Museum Quality Hand-carved stand USA" is in sale since Monday, December 23, 2019. This item is in the category "Collectibles\Decorative Collectibles\Nautical Décor". The seller is "rmyklo" and is located in Concordia, Kansas.
This item can be shipped worldwide.
Primary Material: Glass
Featured Refinements: Ship in a Bottle
Country/Region of Manufacture: Unknown
Handmade: Yes