Sicilian Folk Art Carved Polychrome St George Knights Dragons 1800s Italy Angels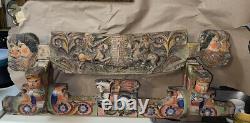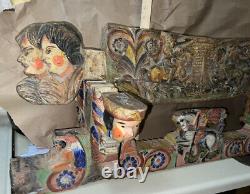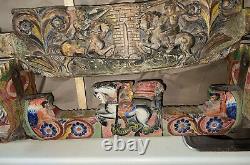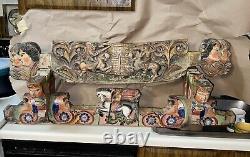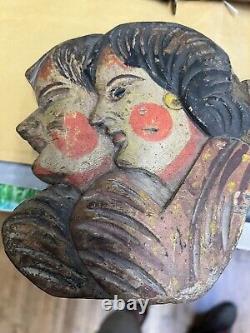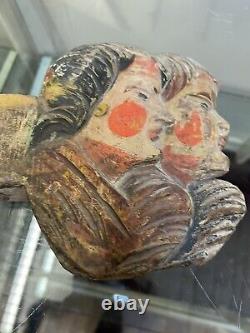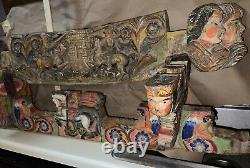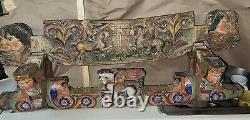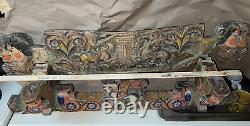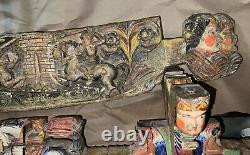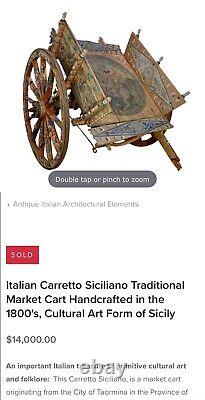 Sicilian Cart panel in Polychrome. Approx 36" long by 24" h.
2 pieces that either formed the front or the seat area of the antique cart. There is a cradle and a cross bracket that nest together. I believe this to be the trestle for the cart seat and the seat back. Just add a plank to sit on and you've got unique seating.
Highly decorated by a master craftsman of their age. The paint is in excellent vintage condition Great bright polychrome colors. George is slaying the dragon. The backrest has knights battling. A fitting homage to St George. The patron Saint of archers knights warriors etc. The ends each have a pair of rosy cheeked people in prayer.
It is painted on both sides. The rear of the bench back is painted in the colors of Italys flag. Palermo Catania Agrigento all have their own distinctive styles.
The rear side of the panel is decorated in colors of the Italian National flag. A lot of pride went into the skill of carving, assembling, and painting by hand, a cart used for special occasions. Sicilian Caretti (Carts) are highly regional vehicles that are as much folk art as they are a means of transportation.
They gained exposure at the 1881 Milan Exposition where their brightly colored and elaborate decorations were seen and recorded by international audiences. They became popular novelty vehicles imported by wealthy Americans and typically were pulled by small donkeys.
The harness would be equally ornate, including mirrors, feathers, brightly colored stitching and fabrics. These were used for festivals, wedding parties and parades. [Carriage Consultant Merri Ferrell 8/2021]. Nothing represents Sicily's culture more vividly than the exquisitely carved and painted cart. When the first roads were created in Sicily in the early 19th century, so began the colorful history of the Sicilian donkey cart, which were used to transport people, produce, wine and virtually anything else that needed transporting.
The carts were marvels of engineering and art, generally consisting of some 60 parts, all handcrafted by cartwrights, woodworkers, painters, ironsmiths and other skilled artisans. The creators passionately carved and painted elaborate scenes from history, often celebrating the exploits of Charlemagne's knights or depicting scenes from famous operas like I Pagliacci.
Carts reached the height of their popularity in the 1920s, when many thousand were on the island. The Sicilian Carretto is made in several provinces in Sicily each with their own style. Carretti made in the province of Palermo have more of a square box design, those made in Catania are made with more elaborate'keys', and then there are the carts made in Agrigento which have their own distinctive style.
Arguably, some of the most acclaimed cart painters of the last century are the Ducato Brothers of Bagheria, near Palermo. Three years ago, at age 80, Giuseppe Ducato was quoted as having painted the cart that now sits in Epcot.